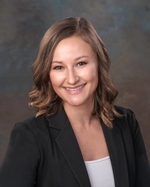 (406)-443-1432
406.442.0137 fax
406-475-2536 cell phone

[email protected]
1221 Echelon Place Suite C
Helena Montana, 59602
Receive Email Alerts from Me
Shandi's roots stem from Helena, MT; however, her ambitions and drive to serve, inspired her to enlist in the U.S. Army shortly after high school, despite having numerous basketball scholarships.  Having obtained her private pilot's license at 17, she naturally began her service to the nation in the branch of Aviation as a Blackhawk Helicopter Repairman.  It didn't take long for her to race through the ranks, before attaining an opportunity to attend the U.S. Army's flight school and become a Warrant Officer Blackhawk Pilot.  The remainder of her service and the overall majority was spent serving as a MEDEVAC Maintenance Test Pilot.
After being honorably discharged from the Army, with a desire to return to civilian life, Shandi continued her service to our nation as a contractor training Army Aviators.  Working for Science and Engineering Services, as an academic instructor she personally trained thousands of Army Aviators in a classroom environment on the newest version of the Blackhawk helicopter (UH-60M) as part of a mobile training team.  During her combined service as a soldier and a civilian training soldiers, Shandi polished the qualities and abilities that make her a great leader, communicator, listener, and friend.  Despite a demanding schedule, over the years Shandi has managed to earn a Bachelor's of Science in Professional Aeronautics from Embry-Riddle Aeronautical University and is currently working towards her MBA with a focus in finance.  
After over a decade in aviation and two combat tours in Afghanistan, Shandi has returned to Montana and redirected her focus to serve the people and community of Helena with their real estate needs.  Her passion for real estate began in her early twenties after attending a real estate convention in Atlanta, GA.  Since that weekend, she has strived to educated herself on every type of real estate transaction, which is guaranteed to pay dividends when servicing the many diverse needs of her future clients.  Her laser focus and persistent dedication to education, personal development, and self-discipline has led her to frequent accomplishments of success thus far in her career and leave no reason but to be optimistic and excited about her future in real estate.